"…the cool alternative gallery hidden down a semi-industrial cul de sac…"
Mat Gleason – Coagula
---
Fogli (Leaves) – a group show featuring Artists' Books: bound, unbound, leaves, and pages
Curated by John David O'Brien and jonna lee
Closing Reception: Sunday, October 8, from 2 pm – 5 pm or see it "tomorrow" by emailing roswell.space@gmail.com or texting 818-517-1387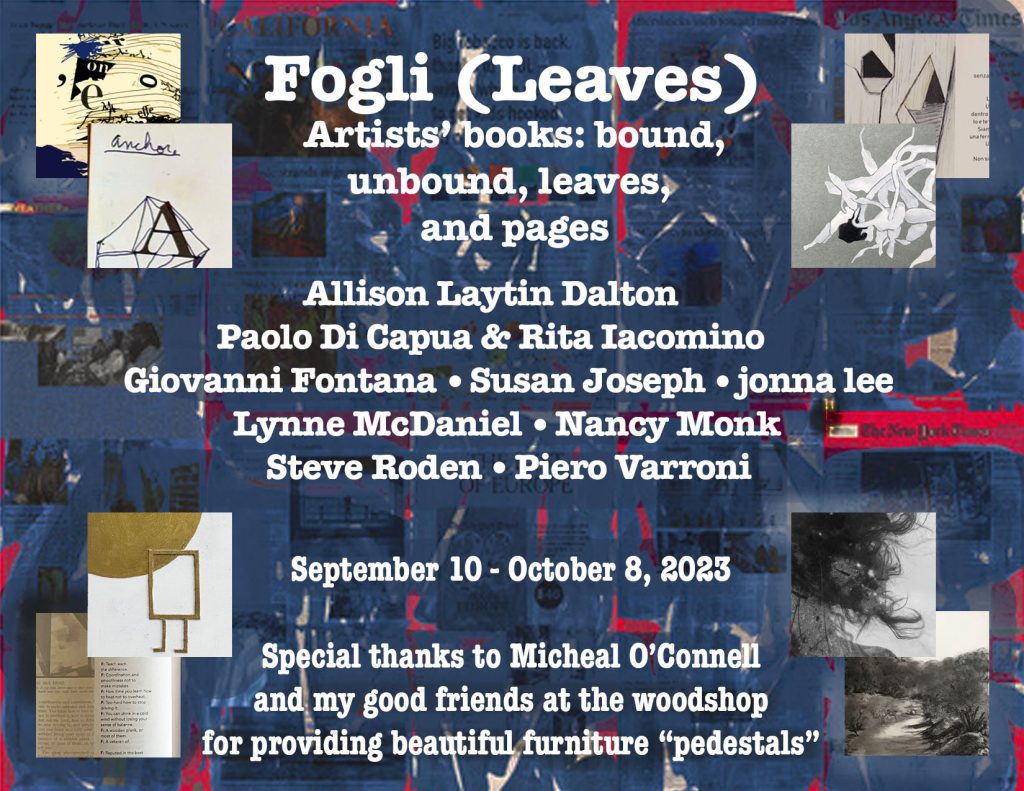 Artists' Books and Fogli (Leaves)

by John David O'Brien, September 2023 

Artists' books have long been synonymous with unexpected results, unpredictable processes, and the tweaking of norms. Taking their departure from the relatively stable imagine of construct of the book with it covers and pages and vehicular nature where it is just a means for conveying the writing within it, artists veer off into book objects or extraordinarily complex mechanisms that are not vehicles for something other than themselves.

The idea of removing the pages from a book verges on the notion of a portfolio in which the individual plates or pages or folios are drawn out of the binding and held together not by being glued or stitched into the spine of a book but by their presence collectively in a clamshell or folder or box or container of some sort. What this exhibition, ambiguously titled in both Italian and American, focuses on is how the inside of books present themselves bound and unbound in a way in which the essential element of sequential reading is retained whether in the form of pages to be leafed through or individual elements placed side-by-side.

Art interpretation is often carried out through sequential readings. Whether that reading is in the memory in mind of the viewer who is comparing the work in front of them with works from a similar period or from their own experience, it tends to be comparative by reading a progression. Artists' books and the individual units from which they are built tend to lay out a very explicit set of things that is actually the axis along which they invite a viewer to follow them. Not surprisingly a multitude of stylistic continuums and the artists working within them have availed themselves of artist books as a format for rendering an explicit reading even if it is not meant to be didactic. The fusion which often occurs between images and text is also purposefully navigated when the format selected for this creative practice is as traditional as the book.

The artists participating in this exhibition have in common, even from within their very different poetics and interests, a desire to invite viewers to interpret the sequences they have laid out as an intentional albeit malleable pursuit. Without renouncing the responsibility of authorship, they hover on the outskirts of their authority and allow multiple entry points. Cultivating this conceptual enterprise, they nonetheless bank off of materials and techniques in which the highly physical and visual qualities counterbalance the thought processes.

Science long ago ruled out the possibility of purely random phenomena. It was discovered that it is simply a question of perspective. How far or close up one is from a specific pattern how hard or easy it is to make it out. The pattern set out in these fogli (leaves) were never meant to be random but were always meant to be suggestive and more open ended than overdetermined. And that is the beauty of this collection. The sum total of each work is more than just the simple addition of each of its parts just as the overall exhibition adds up to a slowly swirling mosaic meant to be enjoyed and studied from an entirely individual position.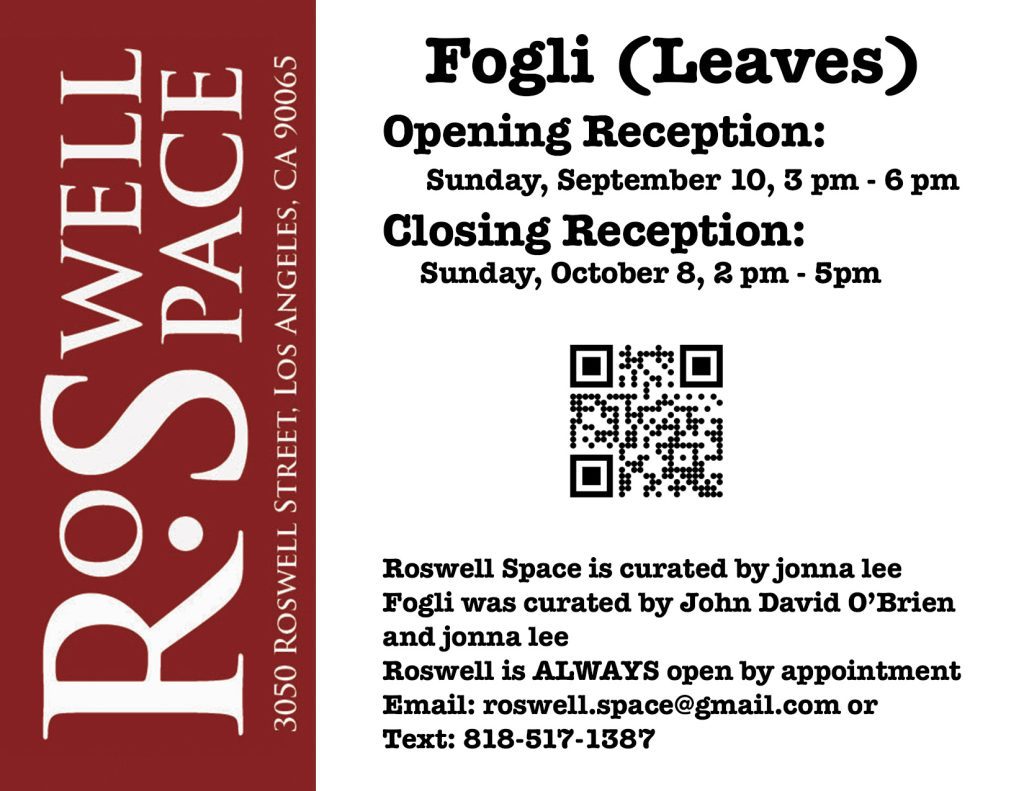 ---
Upcoming
Bounce – featuring conceptually collaborative work by Quartet – Karen Karlsson, Denise Kraemer, Kerry Kugelman, and Jill Sykes. October 29 – November 19, 2023
Holly Jolly! – December 9-10, 2023. A fundraiser to benefit Roswell Space with small works at a prix fixe price to fill your holiday coffers! (or to satisfy your collection needs) All artists are welcome. For more information email roswell.space@gmail.com
Subscribe to Roswell.Space for upcoming and ongoing event news!